Shangri-la, China 2009.1.6
Anders Högberg skiing for IFK Umeå looks like he is having a great time in China. On Tuesday, Anders became the total winner of  Tour de Ski China which finished with a sprint in Shangri-la in southwest China, bordering on Tibet.
The tough sprint competition on Jan 6 was won by Gaudenz Flury, Switzerland before Remi Damevin, France and Johan Edin, Sweden. Because the ski arena was
located 3300 m above sea level, the competition was very tough with a lot of skiers panting in the thin air.
Ander Högberg has had a very fruitful journey in China, taking home 90.000 Yuan on his three stage victories, including Vasaloppet China, as well as being the total winner of the tour.
In the women's competition, Man Dandan fininshed a strong tour by taking home the last gold medal as well as the position as the total winner among the women, her countrywomen Li Hongxue and E Yingcui became 2nd and 3rd in the total standings adding to the Chinese women skiers strong perfomance in the overall tour. In the sprint competition itself, Norwegian Tiril Schölberg and Swedish Therese Carlsson managed to snatch the silver and gold medals before the chinese skiers behind them.
Results
Cross Country Skiing
Shangri-La, China. Tour De Ski China: Sprint
Men: 1) Gaudenz Flury, Switzerland, 2) Remi Damevin, France, 3) Johan Edin, Sweden, 4) Xu Wenlong, China
Women: 1) Man Dandan,China 2) Tiril Schölberg, Norway 3) Therese Carlsson, Sweden 4) Song Bo, China
Results
Tour de Ski China, Total standings
Men; 1) Anders Högberg, Sweden  2)Johan Edin, Sweden 3) Xu Wenlong, China  4) Fredrik Persson, Sweden
Women; 1) Man Dandan, China , 2) Li Hongxue, China 3) E Yingcui, China  4) Sandra Gredig, Switzerland
Click here for full results of Tour de Ski China
For press information, please contact Mr. Torbjörn Pettersson, Nordic Ways, 0733-836 386
The three Chinese total winners of the womens Tour de Ski China.From the left;Li Hongxue,2nd, Man Dandan 1st,E Yingcui 3rd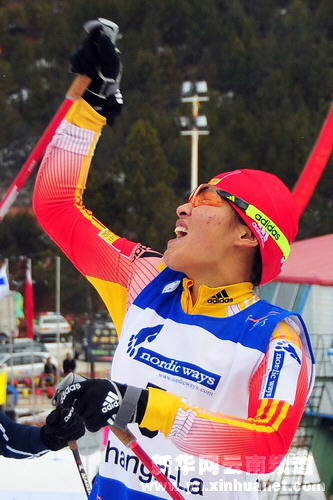 Man Dandan, Total tour winner, womens group

Man Dandan in the last curve up to the finish
Remi Damevin from France took a 2nd place in the last stage of the tour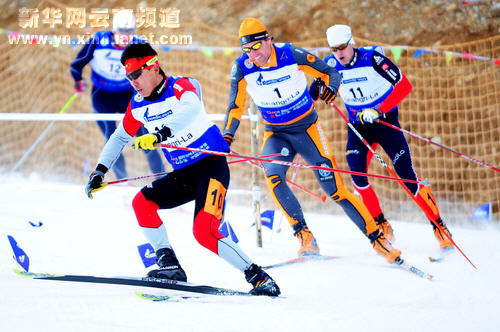 Award ceremony for the stage 5 winners. From the left: Remi Damevin, France, Gaudenz Flury, Switzerland, Johan Edin, Sweden, Xu Wenlong, China
Tour de Ski China, Total winners;from the left; Johan Edin,2nd, Anders Högberg,1st, Xu Wenlong,3rd, Fredrik Persson, 4th
Photo: Xinhua Net