It seems that today was the day of the 80s generation skiers in the men's sprint in Xiwuqi. With Swedish Adam Johansson taking the 1stplace, followed by Gustav Hall (SWE), Remi Damevin (FRA) and Johan Edin (SWE), all four top skiers on today's podium was born 85 or later, leaving more senior skiers like Anders Hogberg and Peter Larsson behind in the small final.
The 2nd stage of Tour de Ski China went two laps a total of 1350m in the same cold weather as yesterday, about minus 15 degrees celcius
In the women's sprint, Sweden was on top as well with Anna Simberg and Therese Svensson claiming gold and silver, followed by Chinese Guo and Zhang. Yesterday's winner Hanna Seppas finished 6th and Norwegian Nilsen 8th.
Stage 2, Xiwuqi, Sprint, Free Style
Results – Men
1.       Adam Johansson, SWE
2.       Gustav Hall, SWE
3.       Remi Damevin, FRA
4.       Johan Edin, SWE
Results – Women
1.       Anna Simberg, SWE
2.       Therese Svensson, SWE
3.       Guo Liping, CHN
4.       Zhang Zheng, CHN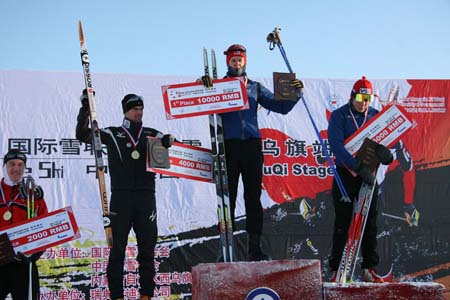 Click on the link "Pictures" to the left to see more from yesterdays and todays stage