Led by Olympic Champions Bjorn Lind and Anna Dahlberg, Sweden today dominated the Changbai Mountain Summer Ski sprint. In the mens qualification, quarter and semi final Bjorn Lind, Fredrik Persson, Peter Larsson and Gustav Berglund dominated and left the men's final to be an all Swedish event.
The final itself was won by Olympic Champion Bjorn Lind after a thrilling sprint duell between him and Fredrik Persson on the
last 150 meters, with Peter Larsson as second runner-up
Olympic Champion Anna Dahlberg went victorious through the qualification, Quarter and Semi final, and there was no surprise when she in the end stood alone as champion of the whole event. Beside Anna Dahlbergs enriority, the Swedish dominance was not quite so massive in the women's competition. Following behind Anna Dahlberg as runner-up and second runner-up was Finish skier Mirva Rintala and Norwegian skier Ingri Aunet Tyldum.
The event was considered a success by all who had taken the time to travel to this beautiful part of China. With the sun shining and with the beautiful nature of Changbai Mountain in the background, the several hundreds spectators watched the best skiers in China, and part of the world elite skiing, most of them in their t-shirts. The skiers also seemed more then pleased with the event, and the opportunity to train for the upcoming season by summer skiing. Bjorn Lind, when interviewed by Chinese TV after his victory, spoke warmly about the competition and how pleased he was, along with how his Chinese competitors had impressed him.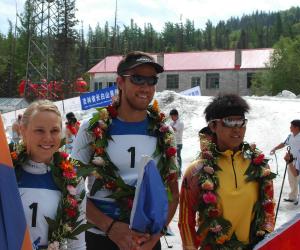 For more pictures. Please see here.