In another impressive team performance, Sun Qinghai and Ma Qinghua grabbed the stage victory in the Xiwuqi distance race today, the second official stage of China Tour de Ski. As in Changchun, Chinese women occupied the entire podium leaving 2013 champion Lisa Svensson in their shadow.
The weather and temperature in Inner Mongolia was more agreeable than in recent years, and this resulted in rather close finishes. Sun Qinghai (picture left) clearly edged out Peter Kling, Erik Bruland and Shang Jincai, but the time difference was just two seconds. The Chinese skier also won the prologue race in Deer Valley last Thursday. Changchun stage winner Bob Niemi Impola crossed the line in eight place, while his Swedish compatriot and race favourite Robin Bryntesson only managed 22nd and therefore missed out on valuable points for the China Tour de Ski overall ranking. At the top of the ranking it is quite open still, with Sun Qinghai leading Impola by just 8 points. Shang Jincai is only 10 behind, and Hampus Lindblom is fourth not too far behind neither.
In the women's category, Chinese skiers utterly dominate this year. As in Changchun, Lisa Svensson had to settle for 'best of the rest' in seventh, but 12 seconds behind stage winner Ma Qinghua. It was a close sprint between her, Li Xin, Man Dandan and Chen Shuang. The female winner of Vasaloppet China two days ago, Li Hongxue, had to settle for fifth today and has to leave the overall ranking lead to Ma Qinghua – third in Changchun – also. It is a very close battle here as well, though.
Stage 3 of the tour also takes place in Xiwuqi. Tomorrow it is time for the 1.2k ski sprint.
Results stage 2 – Xiwuqi, Inner Mongolia, 5.7k – men
Results stage 2 – Xiwuqi, Inner Mongolia, 3.8k – women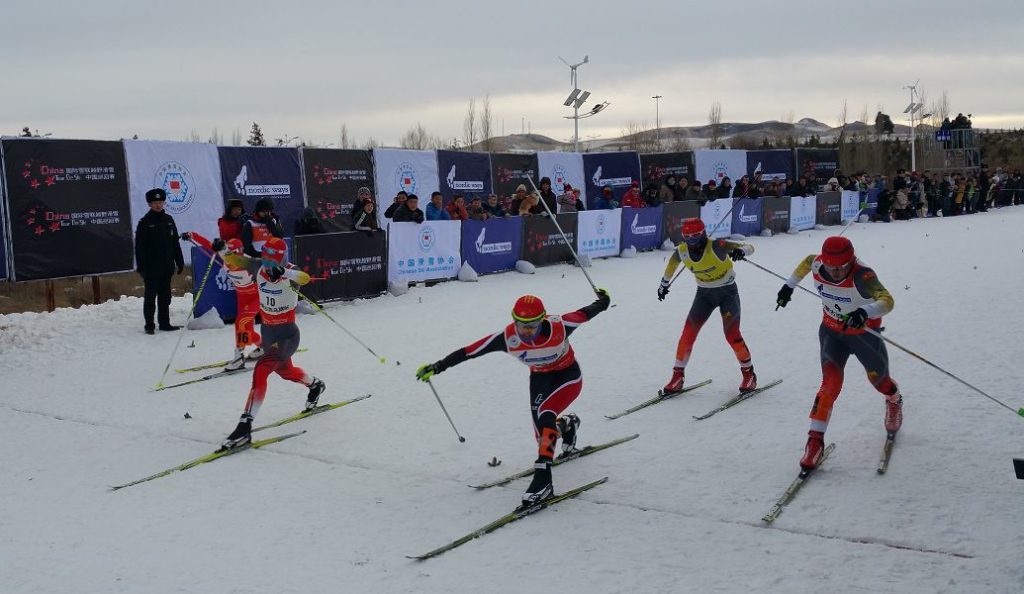 A very close finish in the women's race today in Xiwuqi, won by Ma Qinghua
And Sun Qinghai was the best in the men's race, ahead of Peter Kling