When Tour de ski China continued during Tuesday 29th, Swedish skiers again took many top positions. With a strong and convincing performance, Anna Simberg, from Bore won the women's sprint final ahead of Therese Svensson, from Jarpen. The men's sprint also saw Swedes on the podium where Adam Johansson claimed victory just ahead of Gustav Hall, both from Club IFK Mora.
With 28 minus degrees and snow having fallen during the night, there conditions were tough during the sprint stage. The sun warmed a bit during the day and the
cold did not affect the skiers too much due to low air moisture. Because of the snow conditions, the relatively flat 580 m course also became more decisive after going the two laps.
–    I felt strong coming in to the finish in the final, so I knew that I would win, Adam said after the race. I wasn't surprised that I did well today, but I was that I came third yesterday. This success really feels great for me since I have had a tough period of illnesses behind me. That I would do this good was more than I expected.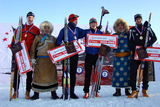 Adam is in the lead after two days of the Tour and has a good chance to take home the total victory. –I have no ambitions of winning Saturday's race since the distance is a bit long for me, but I am of course hoping to be able to tag along to get a good finishing position that might give me a good overall placement.
Someone who sees big chances on Saturday is Gustav Hall who came second in the 2nd stage.
– The Chinese Vasaloppet is the race I have been looking forward to most during the week. It's in classic style when you push along a lot with your poles, this suits me well so I think it's going to be really great.
The skiers are free from competitions today and tomorrow, with time for practice in the Vasaloppet tracks in Changchun. The last stand off will be in Vasaloppet China on Jan 2.
A big "finally" for Anna
Anna Simberg, Club SK Bore
– I am so incredibly happy, it was long since I won a competition, says Anna who is having a good time on her first Tour in China together with her friends in Team Ski Tunnel. Anna, who usually is a better distance skier, was overjoyed at the finish after her win in the sprint.
– I felt quite stiff in the qualifications, so I was surprised to find myself being 4th after. Then I felt really good in the quarter and semifinal. Although I thought I had made a mistake taking the lead from start, I did as I had done just earlier and just went for it from start to finish, and luckily it paid out.
Anna came 7th in the first stage.
The women's sprint also had a Swedish skier on 2nd place, Therese Svensson, Club Jarpens SK.
– I felt slow in the qualifications, so I thought there was something wrong with the qualification times list having me on top, says Therese.Therese was in a third position in the final at first but she worked her way up to 2nd position, a position she kept all the way over the finish line.
– I had to drop Simberg just before the finish straight; she became too tough for me.
Placing herself 6th in the first mass start of the 1st stage, Therese also has a good position in the total standings before the finishing Vasaloppet China.