Swedish Teodor Peterson and Jenny Hansson, both visiting China for the first time, became winners in the fourth edition of the Chinese Summer Ski Tour, that began today just outside the city Yakeshi in the province of Inner Mongolia. Race day got sun shine from a clear blue sky and very fair conditions as on the stored snow of about 15 000 m3.
Ladies winner, Jenny Hansson said in the afternoon; "It was really good conditions with very fine snow. Unbelievably cool to
compete here in China, it was really fun. It felt good in the body today and it was fun to stick all the way to victory in a sprint. It was a pity for the competition that Sanna Hallberg fell, we had a tough fight in the quarterfinals. There have been many funny experiences here in China and we have received a good response from the Chinese people we have met here in Inner Mongolia. I would love to come back to China and the Vasaloppet China some time and I think I would have a good chance of winning the total cup of Tour de Ski China."
Behind Jenny Hansson the Norwegian Liv Inger Nilsen Bjerkreim took the second place and to the delight of the Chinese squad, Wang Libo took come on to the podium with her third place. The final was run also by Katja Schwartz, SWE who became fourth.
Teodor Peterson, winner in men's class, says this about today's race: "It was fun to go here today and the track and snow conditions were surprisingly good. It felt good for me today, but I was a little tired after the trip over here during Friday-Saturday, but it came off during the competition. It is a little different to compete in China and it feels very exotic. I am very happy that I got the chance to go here, so far it is really a memory for life!"
In the men's class took forever young, china veteran Anders Hogberg, Sweden, became second behind Teodor Peterson and Kjetil Hagtvedt Dammen, Norway followed them to the podium. Hagtvedt Dammen that last winter was on the Tour De Ski China with one stage victory in Inner Mongolia. Gustav Hall, Sweden took care of fourth place in the final and David Frisk, also Sweden, won Small Final and became fifth, which means he defeated Bjorn Lind, the Torino Olympic Champion.
Second race in this year's China Summer Ski Sprint will be held on Wednesday as show contest in Qiaobo Ice & Snow World, which is year-round facility for alpine skiing in Beijing.
The day after last stage European athletes start travelling back home, but ten of them, including Bjorn Lind and Peter Larsson, will travel to Changchun (Vasaloppet City) in Jilin Province by night train, to switch ski boots to running shoes and participate in Lidingoloppet China, a cross country running event over 30K.
Lind and Larsson extend their stay in China to return to Inner Mongolia in early July, this time the city of Xi Wu Qi in order to participate in Genghis Khan MTB Adventure for three days the Grassland Extreme Marathon on the fourth day. That is a hard program for these guys, but they see it as a good, but different, part of the basic training period.
Ladies final with winner Jenny Hansson, SWE in the lead ahead of Inger Liv Bjerkreim, NOR and Wang Libo, CHN
Men's podium, from left, on 2nd place Anders Hogberg SWE, winner Teodor Peterson SWE, 3rd place Kjetil Hagtvedt Dammen NOR and on 4th place Gustav Hall SWE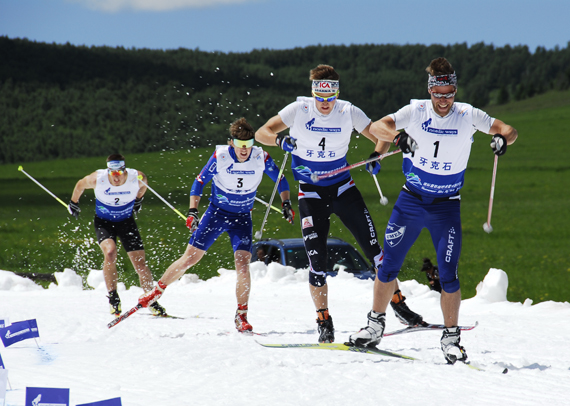 The four men finalists are fighting for the positions. First in track is Anders Hogberg followed by Teodor Peterson, Gustav Hall and Kjetil Hagtvedt Dammen