Both Adam Johansson and Lisa Svensson have confirmed their participation in the upcoming 2014 China Tour de Ski and will defend their overall titles secured in great style last season. The Swedish ski stars will face stern opposition, though, and Johansson will be up against the "Ski King of China" Anders Hoegberg.
Hoegberg is a veteran at 38 years of age, but he has shown no signs of deterioration so far. Last year he won Vasaloppet China in Changchun for the third time before returning to Europe, and last summer he even beat the entire field in a summer ski sprint in Yakeshi, Inner Mongolia. Hoegberg has been focussing more on long distance races of late, but by winning that ski sprint he proved he can still be quick and therefore becomes a huge challenger for Adam Johansson's overall TDS title. A year ago, Johansson got the better of Finland's Kittilae in the latter part of the Tour, and being a typical sprinter expectations are he will find himself in a chasing position again after the long distance and classic-style
race in Changchun. So will Nalati be sweet to him again? The Kazakh region in the far western part of Xinjiang plays host for the final two stages of China Tour de Ski, both won by Johansson last winter. The two middle stages in Inner Mongolia's Xiwuqi could thus be crucial for both protagonists: a bad day and a meagre points haul may jeopardise their chances for overall success and the largest pot of prizemoney. In any case, Hoegberg and Johansson both can become the first male skier to win China Tour de Ski for a record third time.
There are more challengers to the throne, however. This season the North American team has been expanded and features amongst others Christmas Boy Nils Koons: a US-based New Zealander (!) who has been scoring top placings is the US Super Tour races this winter season. Just like Timothy Reynolds, Koons is also a strong classic-style skier, so it will be interesting to see how the pair fares against Anders Hoegberg in Changchun. Former Canadian olympian Drew Goldsack's first appearance on the China Tour last season was no overwhelming success, but he is returning and can definitely has the ability to fight for a podium finish or two.
On the current start list we find other familiar names, such as Johan Eriksson and Bob Niemi-Impola, both great skiers who have scored podium places in China in the past. Another such dark horse to keep an eye on this time is Victor Gustafsson. At 23 years of age, Gustafsson is gradually coming to full maturity as an athlete and even enjoyed the taste of victory twice last summer. Gustafsson travelled to Australia and won two sprint races in the Australia Cup Series. More than before, Gustafsson looks ready for a central role in the Middle Kingdom as well.
An even younger talent to test himself against the big boys is Lukas Johansson. Only 18, but a winner in the Swedish junior ranks. France's Romain Claudson is another skier who has been successful in regional races and who's looking to step up in class. Austria is also well-represented this year by virtue of Lukas Weitgasser. Recently, Weitgasser has especially achieved solid results in medium to long distance races, which makes him a podium candidate for the 45km long race second stage.
The women's race on paper may develop into a dual between Lisa Svensson and Astrid Bruland. Svensson does have the upper hand, though, as she is the defending champion who not only has proven to be able to win but also to be the most regular points scorer of all. Every year, the female Chinese national team tends to be very strong, however, and it cannot be excluded that one or more local skiers cause an upset during one or more stages of China Tour de Ski. Last year, two local girls dominated Vasaloppet China, for example. The participants on the Chinese side have currently not been confirmed yet.
Adam in Nalati stage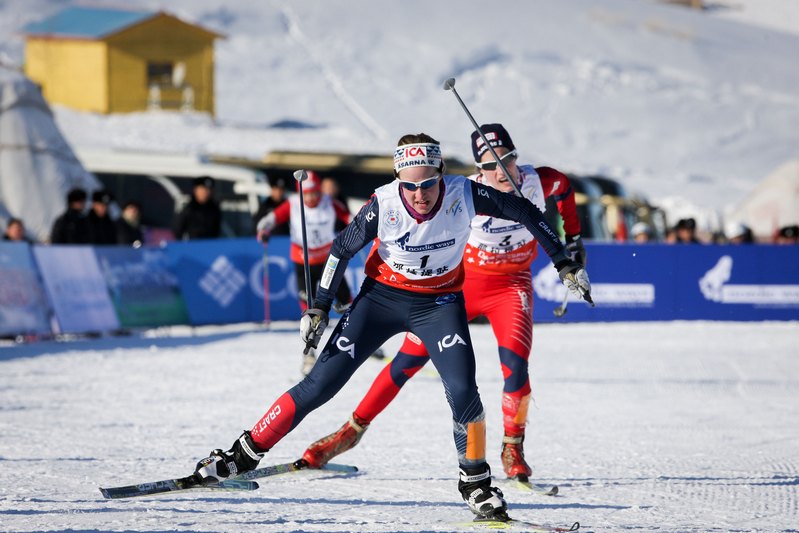 Lisa(No.1) in Nalati stage
Anders(No.2) in Xiwuqi stage