Xiwuqi City in Inner Mongolia has hosted the first stages of Tour de Ski China ever since the start in 2008, apparently a good turnout for them since a new 5-year contract was signed by Xiwuqi Government and Nordic Ways on October 17th in the town hall. The contract runs 2010-2014 and lays a firm ground for the continuing development of the tour.
Last year, Xiwuqi hosted Stage 1 and Stage 2 of Tour de Ski China,  winners of both stages that time was Swedish skier Anders Hogberg. This year, the program is
mostly the same with a Sprint (1200m) on December 28th and a mass start long distance of 4km Men/ 3km womens stage on December 29th.
Xiwuqi has made improvements on their skiing facilities in the last years, much due to Tour de Ski China. For example they now boast with having Chinas first elecric lit cross country ski track. The track is a part of the newly built ski center which also has an electric lit downhill slope. Its clear that hosting of the tour stages gives the small city a chance to show off both its development and local culture. Among one of the best experiences for the skiers to ski in Inner Mongolia is of course the friendly spectators around the track dressed in their colorful traditional mongolian winter clothing.
On the pictures: Mr E, Chief Governor of Xiwuqi signing the 5 year contract with Mr Gavert Waag, Founder and Honorary President of Nordic Way with Vice Governor Mr Wu on his right.
Tour de Ski 2009,  Stage 2 in Xiwuqi
Last years Xiwuqi stage 1, 2 and total tour winner Anders Hogberg (1) with Fredrik Persson (2) and Remi Damevin (3) after the 5km distance 2009
Event Bar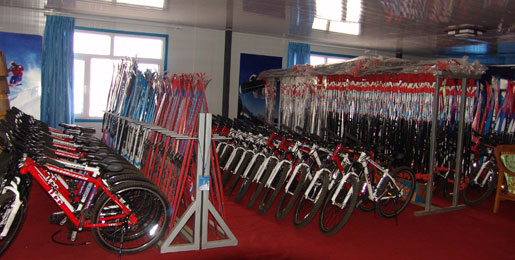 Ski Center
Alpine ski facility under construction