With less than 20 days until the upcoming FIS Point Race – the 4th Tour De Ski China 2010-2011, what's hot and what's new?
Star Athletes
This year, we are honored to have the Olympic Gold Medalists Bjorn Lind ,who's going for the whole 4 stages and Thobias Fredriksson, who will only come for the Beijing Bird's Nest Competition, the 3rd stage of the TDS 2010-2011.
Bjorn Lind, a young Swedish cross country skier, was born in Ljustero. Having competed in three Winter Olympics, he won gold medals in both the Individual and Team sprint events at Torino in 2006. Lind's best finish at the FIS Nordic World Ski Championships is a Fourth in the individual sprint twice in 2005 and 2007. Besides, he has three World Cup victories in individual sprint events since 2005. And this time, the 2010–2011 season will be his first in the long distance tour!
Thobias Fredriksson, a cross-country skier also from Sweden has competed in World Cup since 1997. He won two medals at the 2006 Winter Olympics in Torino with a gold in the Team Sprint and a bronze in the Individual Sprint event.Fredriksson has also won two medals in the individual sprint events at the FIS Nordic World Ski Championships with a gold in 2003 and a bronze in 2005.

Star Announcer
Nordic Ways are very proud to present the 50 years old Norwegian Olympic- and World Championships-announcer Kjell-Erik Kristiansen to be the announcer at China Tour de Ski 2010-2011, stage 3 at National Stadium, Bird Nest on Dec.30, 2010.
Kjell-Erik Kristiansen, known as the Worlds No.1 announcer, has been the head announcer for 9 times for FIS Cross Country Ski World Championships, 1 time for FIS Cross Country Ski Junior World Championships, 30 times around for World Championships in different sports, 1 time for Winter Olympics and 2 times for Summer Olympics as TV commentator. Furthermore, about 400 times for World Cup in XC Ski and Biathlon. He has been doing the announcing in 21 different countries and he is absolutely the one who knows the athletes best of all!
This Winter Kjell-Erik will have a tough program with FIS Tour de Ski, the World Championships Nordic Skiing in Oslo and much more, like several FIS Cross Country World Cups and also several Biathlon World Cups.
Four stages, covering three spectacular ski arenas (Xiwuqi, Inner Mongolia, Bird's Nest, Beijing, and Jingyuetan Park, Changchun) from Dec.28th 2010 to Jan.2nd 2011 are coming soon. For more highlights, please stay tuned!
the Olympic Gold Medalists Bjorn Lind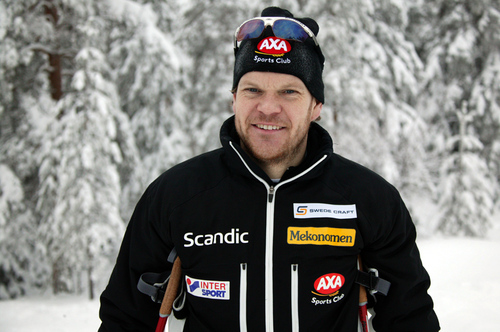 the Olympic Gold Medalists Thobias Fredriksson
the Norwegian Olympic- and World Championships-announcer Kjell-Erik Kristiansen